Visit by the Director General of IOM
Visit by the Director General of IOM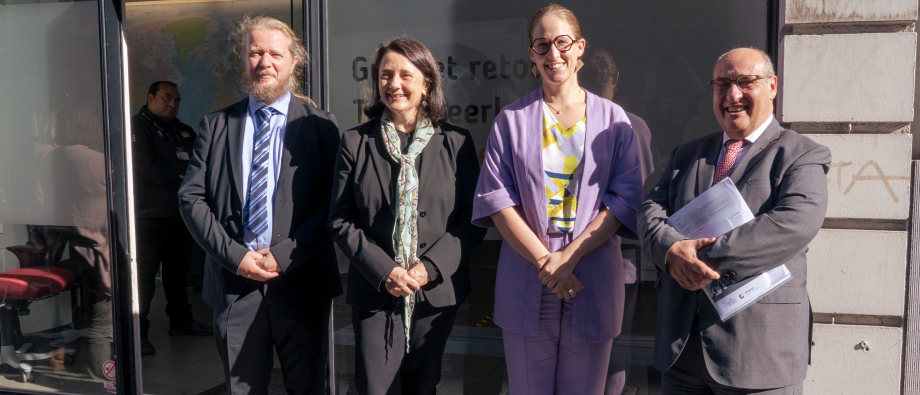 On Thursday 6 October, António Vitorino, IOM's Director General, visited Fedasil's return desk in Brussels.
On Thursday 6 October, the Director General of the International Organization for Migration (IOM) came to Belgium for a visit. In the context of the consultation between IOM and Belgium, the Director General paid a working visit to the Fedasil return desk in Brussels, in the presence of the Secretary of State for Asylum and Migration, Nicole de Moor. He talked, among others, to several return counsellors.
Partners
The choice to visit a return desk was an obvious choice; Fedasil's return desks stand out due to their accessibility for migrants (you can just walk in, no registration is required) and their close collaboration with return partners. For example, IOM is present at the return desk three days a week and it is manned by return partner Caritas one day a week.
Discussions between Fedasil and IOM highlighted the close and effective cooperation between the many partners. Several partners are involved in each link of the voluntary return path: information is disseminated to migrants through the CONEX network, return partners are present at the return desk and, even after return, IOM and Caritas provide reintegration follow-up and support.
After several difficult coronavirus years during which the number of voluntary returns dropped sharply, the number of returnees is once again increasing. Between January and August 2022, 1,773 people returned.
Voluntary return? Migrants can decide to return to their country of origin at any time. The voluntary return programme is designed for all migrants, including applicants for international protection, failed applicants and undocumented migrants.
Voluntary return is a support programme whereby the journey is organised from Belgium to the destination country, and includes assistance and transportation costs. The return process is carried out quietly and discretely. Through this programme, returnees can also receive reintegration support in their country of origin, depending on their status. Returnees can use this reintegration support to start a business, rent or partially renovate a home, pay medical expenses, etc.
Fedasil has return desks in Brussels, Ghent, Antwerp, Liège and Charleroi to inform and assist migrants without legal residence.
More info on https://www.voluntaryreturn.be