Reception of 11 young migrants from Greece
Reception of 11 young migrants from Greece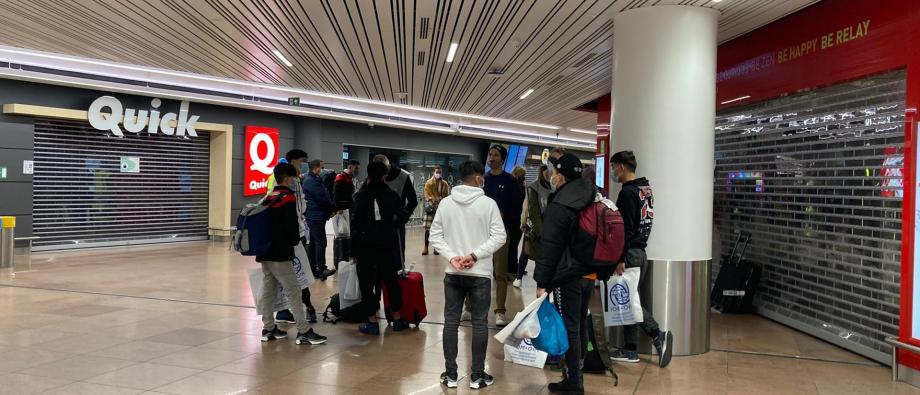 This morning, 11 young migrants arrived in Belgium as part of an international relocation scheme for unaccompanied children. Fedasil is responsible for their first reception.
On 15 September 2020, the Belgian government pledged to relocate 12 unaccompanied foreign minors (UFM) to our country as a result of the fire that destroyed the Moria camp on the Greek island of Lesbos. They arrived in Belgium this Thursday 17 December. One young migrant will arrive later.
The 11 young migrants had been staying alone, without parent or guardian, in migrant camps on the Greek islands for several months (hotspots of Lesbos, Chios, Samos) or on the continent. The 9 boys and 2 girls originally come from Afghanistan, Palestine, Somalia and Congo. The youngest is aged 12 and the oldest have just turned 18.
We are keeping our promise to give priority to the protection of young people. However, the ad hoc procedures for emergency situations take too long. The migrants who are left stranded in a camp for years then try to continue their journey in Europe through irregular routes. Today, these young migrants are arriving safely in our country.
Sammy Mahdi, Secretary of State for Asylum and Migration
Covid-19 Screening
All the young migrants concerned were tested for Covid-19 before departing for Belgium. Only after a negative test result were they allowed  to make the trip to Belgium. Fedasil provides the usual medical screening on arrival.
Reception and application for international protection
After arriving in Belgium, most of these young migrants will as usual first be accommodated in one of the Fedasil observation and orientation centres for unaccompanied minors.  After a stay of 2 to 4 weeks, they will be directed to the reception facility that best suits their needs (a Fedasil or Red Cross centre, an accommodation managed by the Communities). One of them will be accommodated in a specialised institution (Minor Ndako).
This specific reception path allows us to offer the young person suitable reception and support.
As for the two young migrants who have just turned 18, they will follow the standard reception path for adults. They will stay first in the arrival centre (the « Petit-Château » in Brussels).
The 11 young migrants will also apply for protection (asylum) to the asylum authorities.
Relocation? The relocation of asylum seekers is a solidarity mechanism which was implemented by the European Union to relieve the burden on Member States which are under high migratory pressure. Greece in particular has called for the relocation of vulnerable young migrants.
There are various actors involved in the relocation process: local partners (the Greek authorities), Belgian authorities (Immigration Office and CGRS for the asylum procedure, Fedasil for reception, Guardian service) and international bodies (EASO, UNHCR, IOM).